Your moving company is now mobile, more efficient, and can enjoy all the powerful features of Moverbase.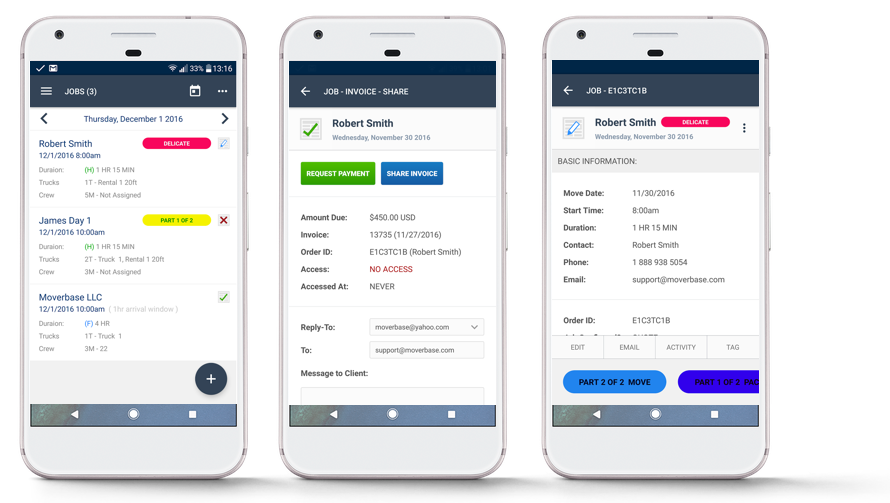 Why you should download Moverbase now:
Movers are mobile. You need a reliable app to operate on the go. Moverbase has designed and developed our mobile apps with efficiency in mind, making the experience of managing movers and jobs simple and intuitive.
Whether you wish to quickly respond to leads, assign teams to jobs or even invoice a client and collect payment, the Moverbase moble app allows you to do this from anywhere (perhaps even the beaches of Tahiti or Barbados?).
You need powerful, reliable software that keeps your team connected and Moverbase has you covered.
Amazing Features for Owners & Managers
Download the app, and explore functions you are familiar with in your Moverbase account including:
Viewing your job schedules
Creating and responding to leads
Calling and communicating with customers
Sending detailed job quotes
Assigning Movers and Trucks
Invoicing and Collecting Deposits and Final Payments on site
... and so much more.
Add your whole moving crew! Mover specific access..
Your movers can have restricted access to:
View their job schedules
View Job Details for assigned jobs
Submit their availability
New Version & Your Feedback
As we ambitiously create the world's best mobile apps for movers we will continuously add features that make you more efficient and even more profitable. We are eager to hear your feedback.