Moverbase is powerful Moving Company CRM Software
Moverbase is powerful #1 Moving Company CRM Software that comes packed with all the features you need to help you run more efficiently.
Here are the top 10 features that make Moverbase awesome
MOVERBASE AUTOMATION: BECOME PAPERLESS & SAVE THOUSANDS
We have completely made our movers smarter, cost efficient and more competitive using automation. Our features are engineered here, at the highest standards of software development that pass enterprise-level stringencies.

Efficiency and Automation will make you more profitable, reduce your stess and save thousands of hours of work.
Here are 6 ways Moverbase can quickly boost your operational efficiency:
1. Free eSignature: with quotes, via email and in-person

2. Automatically fill all your documents with job and client information
3. Automate Emails to Respond to Prospects & Clients
4. Create & Send Invoices, collect payment & send receipts

5. On-Location payments via wireless & swipe POS
6. Digitize ANY document with Fill & Sign eg Bill of Lading

MOVERBASE INTEGRATES WITH CRITICAL BUSINESS APPLICATIONS
Every mover uses a number of web and mobile applications to run their operations smoothly. Moverbase is the hub of all your business processes. We integrate with Google Calendar, Stripe, Paypal / Braintree, Quickbooks, and over 400 other applications. To view our integrations, click here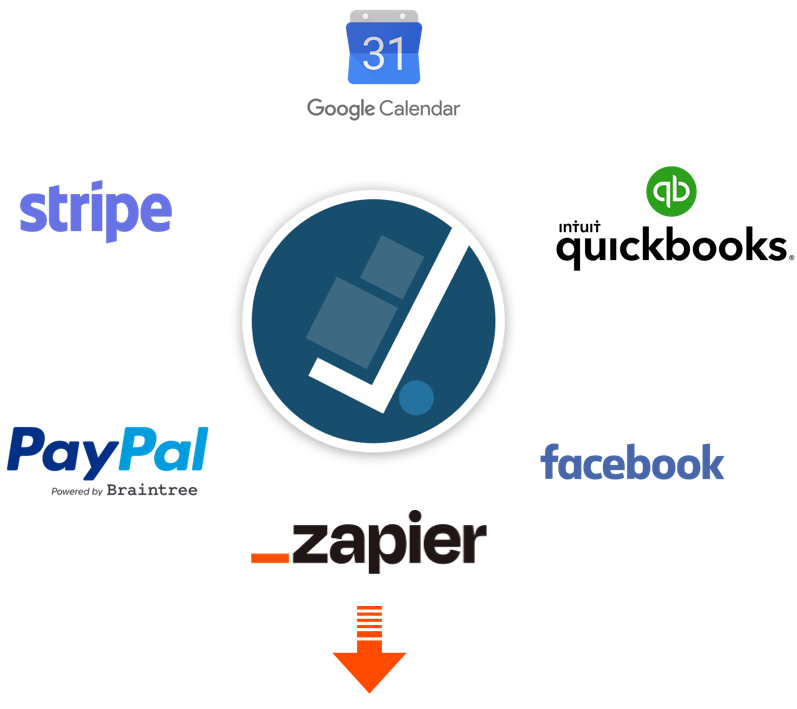 AND OVER 400 MORE APPLICATIONS VIA ZAPIER
FREE account, FREE training & FREE support!
LET'S GET YOU COMFY!
Here at Moverbase, we strongly believe that you need to take your time and become comfortable with how you wish to use our system to run your company. Sign up for a free account and we'll give you free training to help you get started. Whenever you are ready, you may upgrade to a premium account. Since we have no committments, you may cancel or downgrade your plans at any time completely free. We want customers to be happy and successful by using us.
IS MOVERBASE GLOBAL? YES!
Moverbase creates web-based moving company software used by customers all over the world. Beyond the USA, we are the moving company software of choice for removal services in Canada, Australia, New Zealand, England and Singapore.
WHAT DO YOU GET OUT OF THE BOX?
We make it simple to schedule jobs, get leads, send quotes online, manage clients & sales, allocate movers & drivers, operate dispatch and logistics, customize your price estimator, track job sales, communicate to staff, get real time notifications on move status, and much much more.
READY?
Yes we do! We have a Moverbase App. It's FREE to download!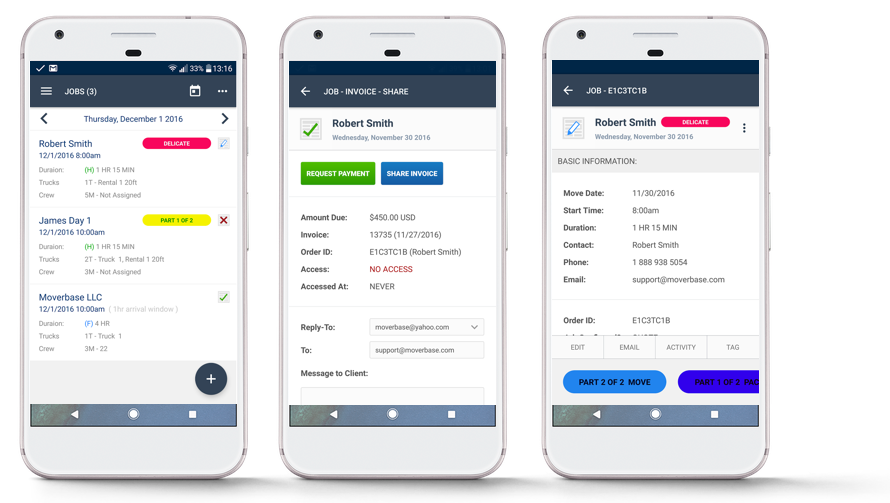 Why you should download Moverbase now:
Movers are mobile. You need a reliable app to operate on the go. Moverbase has designed and developed our mobile apps with efficiency in mind, making the experience of managing movers and jobs simple and intuitive.
Whether you wish to quickly respond to leads, assign teams to jobs or even invoice a client and collect payment, the Moverbase moble app allows you to do this from anywhere (perhaps even the beaches of Tahiti or Barbados?).
You need powerful, reliable software that keeps your team connected and Moverbase has you covered.